Chamber News
This month's Jill Ann Anderson lunch and learn topic is "The 3 Psychological Triggers that Matter to Happy Customers". Although the business-customer relationship is largely based on emotion, we can still look to scientific research for answers that reveal 3 powerful, emotional triggers.

River Falls Days 2016 - July 7-10

Each year, River Falls Days is held in Heritage Park on the banks of the scenic Kinnickinnic River. This free, family-friendly event has a carnival-like atmosphere with tons of food and entertainment. Festivities include a Friday evening parade, 10K/2mile/Kid's Fun Run, live music and outdoor dancing, food vendors, fireworks, carnival rides and much, much more!

Ambassador Golf Outing - Monday, August 8

Treat your employees, preferred customers and/or clients to an afternoon of fun and camaraderie while participating in the annual Chamber Golf Outing. Join us for lunch, 18 Hole Golf Ball Scramble, dinner, gift bags, networking opportunities and team photos. Premier Sponsor: Family Fresh Market. Learn more & register online.


Member Center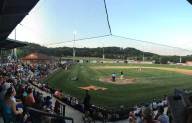 Visitor Information
Events & Programs
Community Resources
Your Chamber
Welcome to the River Falls Chamber of Commerce and Tourism Bureau
The River Falls Chamber of Commerce and Tourism Bureau is a membership-based, nonprofit business organization that has been proudly working together to connect, promote, and support its members to further enhance the local economy and cultivate a sense of community since 1955. Located just minutes from the Twin Cities, River Falls is a vibrant city situated on the beautiful Kinnickinnic River. Whether it's fly fishing and kayaking or art fairs and music festivals, the city on the Kinni is a great place to live, work and play.